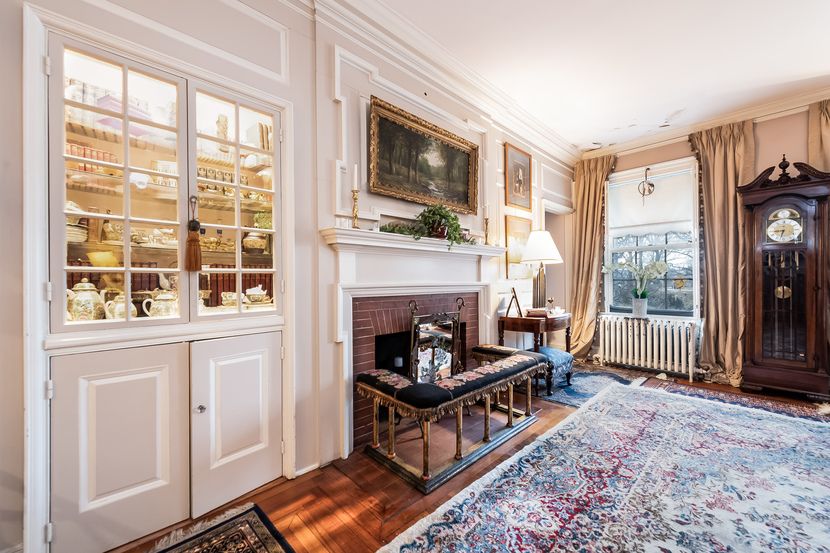 49 Hawthorn Street – Cambridge, MA. 02138 – $5,800,000.
What follows, under "House for Sale" describes a house which we would like to bring to your attention. We hope you will consider buying the house – either for yourself, your family or for one of your favorite institutions and/or charities.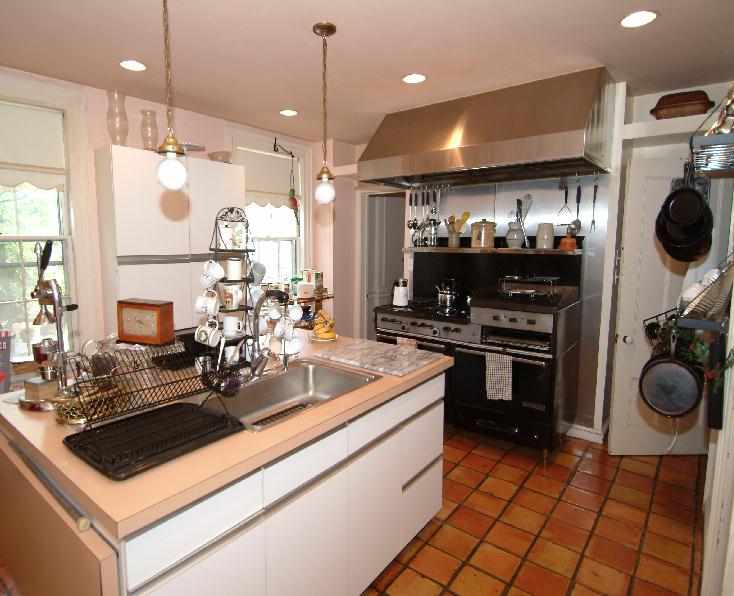 The house we are describing was designed and built by an MIT graduate in 1900. She was one of MIT's first female architectural students.. Her papers are in the MIT Library. She is Lois Lily Howe with her own architectural firm and all the architects working with her were women. Such a history in today's climate makes quite a statement.
This particular house – at 49 Hawthorn Street – is the only Howe designed house in this area in which the interior has not been stripped and re-built taking away all of the historical design. The only room that needs to be brought back to its original design is the kitchen. It is wonderful as it is, however, to bring it back to Ms. Howe's design would be special.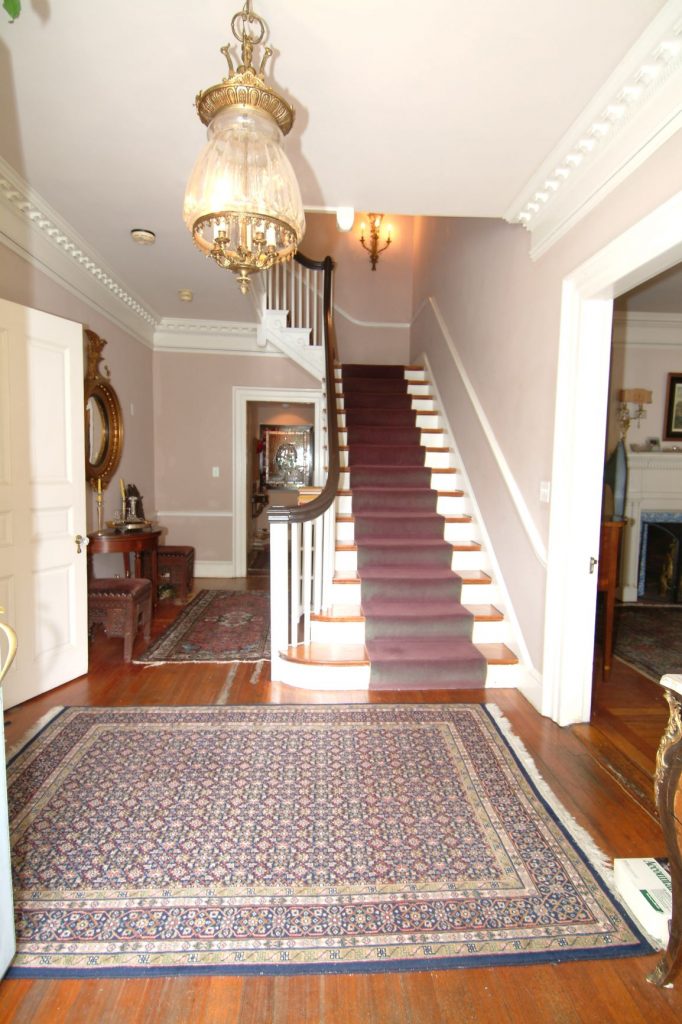 Marceline and Robert have lived in this house for 40 years and love every corner. Being people who love history (Near Eastern History was the subject of Robert's Harvard Doctoral thesis) and with Marceline's educational background in the School of Architecture under Ralph Rapson, they have totally enjoyed living in this house and discovered much in the process. Selling it under duress they want to know it is in the hands of people who would continue in that design preservation route. The area has a penchant for taking beautiful culturally diverse homes and turning them all into a Northern European Scandinavian aesthetic. They look as though they were all designed in the Ikea Showrooms. So sad! There is nothing wrong with the Ikea Designs, however, what is wrong is making them the ultimate, cultural, design touch stone. This house escaped that "remodel".
Ms. Howe built the house for William Augustus Maynadier – a Harvard Professor who taught "Arthurian Legend."- the story of King Arthur and the Round Table. It was a required course for all Harvard men. There were no Harvard women in those days.
Being very strong feminists, the Donaldson/Bennetts found that Harvard/MIT combination quite special. While "feminist" was not a term in her day, Ms. Howe clearly was a feminist as we know the term today, stepping out into the world of Architecture the way she did. Prof. Maynadier would be known as an extreme sexist today. He was teaching a class which laid the ground work for the very horrible sexism which most 20th century women have had to deal. And yet, he hired Ms. Lois Lily Howe to build his house.
Arthurian Legend – King Arthur and the Round Table – was a way of teaching men how to treat women in that "on the pedestal and out of the equality" area. The necessity of opening doors and standing on the side as she entered the room and etc. for this weaker sex is what was being taught, although not so specifically – it was wrapped in the Arthurian Legend. All the things women have fought to have removed for decades so they could be treated as equals is what Prof. Maynadier's class was about. It was totally accepted at the time. Most people don't know that this originated at Harvard. It was in the general world population at the time, but not to the extent that it became entrenched with Prof. Maynadier at 49 Hawthorn Street.
It was interesting to us that Prof. Maynadier chose Ms. Howe to design and build his home. – which he used to live in and invite paying guests to stay with him. The house has had that use throughout its 100 plus years of existence. It hosted seminars, class sessions, teas and many famous and not so famous people, still while serving as a very private home.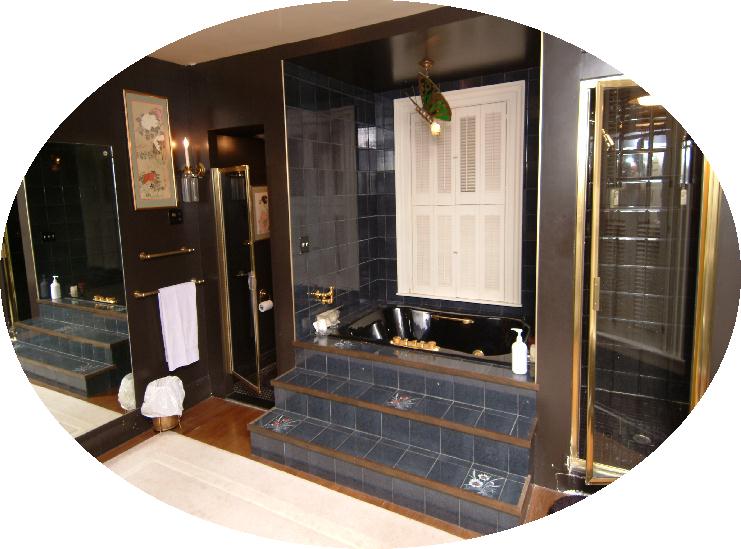 One of four bathrooms in this home – designed with jacuzzi, steam/shower room and separate enclosed toilet. The plumber calls it a "no bad smells" bathroom.
The Donaldson-Bennetts used their home to have what today are called bed & breakfast guests and to build the first network of such private homes working their way across the country and turning a national and an international network of bed and breakfast homes into a commonly known and accepted concept. This house was the beacon. Besides this house, they had homes also in Thailand, England, France and more.
The guys who founded Airbnb stayed with them before those three even thought of such a company. They were sent by Venture Capitalists – particularly the Capital Network in Cambridge – who wanted to fund such a venture, but not one designed, created and being grown by African Americans. So they helped themselves to the Bettina Network, Inc's business plan and everything else they could find to help them get the same kind of venture off the ground. They sent people to offer their homes to join the Bettina Network, inc. but were really only interested in the process of how that was done – just as they hacked into and used Craig's List to get their initial clients. The Donaldsons' believe that when their web site was stolen, locked and offered back to them for enormous sums of money – it had to do with the genesis of Airbnb, although that was not known at the time as Airbnb was just forming.
While the Donaldson/Bennett's lived and are living in the Lois Lily Howe house, Harvard sent many guests to stay with them, as did MIT, Tufts, Boston University, Boston College and more. Several admin people called regularly to make reservations for guests visiting Harvard and other Universities in the area as well as private corporations calling for guests to whom they wanted to give privacy.. Everyone who stayed loved their time in the house and totally were taken by its history stories and general feeling.
Many institutions and corporations used the house when guests were visiting who they wanted to have privacy without being worried that their guests would be stalked in the lobby of the hotels to pick up information that could be used for media articles. They also liked the fact that guests wouldn't need so many levels of security when they came to Boston. Guests included such as Ambassador Victor Israelian, the Prime Minister of the Netherlands, top management from the State Department, many of the USA's top families, many scientists – mostly physicists – who loved the quiet and privacy of the house where they could enjoy the patio where squirrels and birds would visit them as they worked on the back porch.
If you have questions, please don't hesitate to call. If you or someone you recommend would like to see the house, we are available at their or your convenience.
Call Marceline Donaldson – 617 497 9166 or email bettinanetwork@comcast.net putting 49 Hawthorn St in the subject line.
What follows is a fuller description of the house as it appears in different publications.
HOUSE FOR SALE – Cambridge, MA. 02138
"Marceline and Robert are selling their home. If you don't want to buy it, please pass this along to those you know who might be interested and/or know someone who would love to step into their shoes. As a private home or as a home with a bit of income so you can live there and do other things. Income can be in the neighborhood of $1,080.00/night, not including income from events, etc..
Marceline and Robert did a wonderful job and are now moving to New Orleans – which is where Marceline grew up. They have not been able to survive the onslaught against them of the Commonwealth of Massachusetts and the way they treat minority elderly in what was and is an apparent attempt of a group within the state to relieve Jews, African Americans, Latinx and others of any wealth that could be passed on to the next generation. This is the new racism/bigotry that is replacing the separatism that followed slavery.
The house has been newly painted with, among other improvements, a new 75 gallon commercial water heater with a 20 year rating and lots of other elegant restorations which keep the historical design of the house as much as possible..
It is one of the few homes in Cambridge, which gives you views of the Charles River from many of the bedroom windows and it overlooks the Riverbend Park on one side with no other building blocking your view. There is also a second park (the historical Longfellow Park) just two houses down on the same block and the same side of the street as Marceline and Robert's house. Fantastic and very unusually elegant to have so many parks within the same block the home in which one lives. One of the only homes in the area with such and with a spectacular view.
You would have 9,000 square feet of living space in this house over five floors. 5,400 (apx.) finished into three floors of elegant historical living and 3,500 square feet (apx) of attic and basement which can be finished into fantastic living space.
For a possible future use of the basement take a look at the basement of Harvard University's Memorial Chapel's basement.
The attic could be refinished into an exquisite ballroom for entertaining with its 16 foot height (apx) at its apex with no beams going across to obstruct the wonderful height of this room. The architect – Lois Lily Howe, in 1900 was one of the first, (she is credited with being the first), to be able to build such an attic. Most attics are so clogged with structures to keep the roof from falling in on itself you do not have the breathtaking space one finds here. This attic is a full floor. Its footprint is that of the entire length and width of the house. Just think of the elegant entertaining you could do in that attic.
Historically, guests came to events in such houses and went to the second floor living room to leave their coats, etc. and freshen up and then went up another floor or two to the tea, dinner, dance or etc. on the upper floors. Today, we don't have attics large enough for such events, especially not one replicating the footprint of the other floors of the house.
Lois Lily Howe was the architect. Designed and built in approximately 1900, she was one of MIT's first female graduates. She established her own architectural firm and the architects she hired were women.
In the process of designing and building this home, Ms. Howe scrounged the area for homes being torn down which had historical touches and she brought that actual history into this house. The mouldings are exquisite and are some 100 years older than the house.
The history of this house includes a psychiatric history – Dr. Lydia Dawes, a well known psychiatrist of yore, was an owner for some 40 plus years before the Donaldson-Bennetts arrived and the house frequently embraced many of her friends who were also famous guests. Sigmund Freud's daughter stayed often and worked with Dr. Dawes. Together they produced one of the first psychiatric journals in the area from this house. Many local psychiatrists remember a part of their training that happened on the couch by the living room window overlooking the magnolia tree. So much history goes with this house both within its structure and with the people who have passed through.
Marceline and Robert have spent decades trying to preserve and create a garden worthy of Lois Lily Howe who ended her career and life as a landscape architect.
You may have heard of the many outstanding and famous people who stayed under the Donaldson-Bennett's roof during their time in the house because you were probably one of them. You can now own this magnificent property so beautifully located.
Want more information – call Marceline – 617 497 9166 or email us bettinanetwork@comcast.net